I have lived in presumption that I am not breeder for a long time. Until top cat touched and sent me a box…. And that's true. We drove on the road and in the middle was run-over box with kittens. Unfortunately only 2 were alive. One of those kittens is our up to this day. It is cat I., which is foundress, her name is Isis. After one year will be added red-white Seth. Turnover in breeder has set in quite nonviolent and has continued desire of a purebred cat.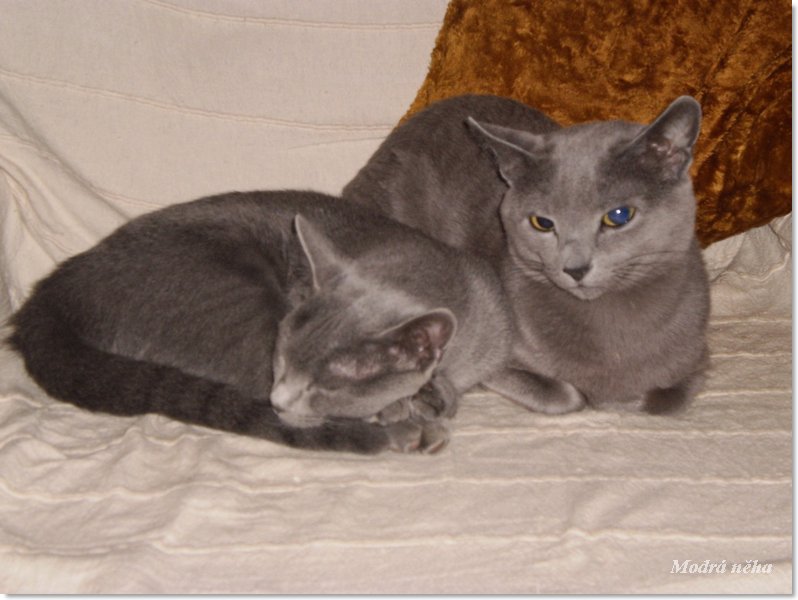 I visited a few shows and read a lot of smart books and picked the best breed – Russian blue. First breeder, who I met was Mrs. Koplíkova, the cattery Z Kaminku. We have tomcat Jolly Jocker from her. He is really typical cat of that kind. He is great boy. We are grateful.
We have already started plan on purchase of cat and have looked forward to breeding of cat with pedigree, but….I read article on one shelter's site about two burma's siblings. Now those cats are living in our house. I won two friends and the same time pets. After came next SOS…..a blue british cat, which is our as well after bad family, who got tired of her. Her name is Nefertiti. And that's not the end. We have kitten Naerea Skrufux and finally a girl for Jolly…Armín Jetyx, beatiful creature, Russian blue cat. We have tendecy of healthy breed and care of sweet cats. We hope that we will succeed with our breeding.