Archive of news
2010 - 2009 - 2008
24th of August 2010
WE have new kittens.

31th of July 2010
Show Prague 31th of July, 2010 - EC Dominik Kockohratky,CZ obtained the title BIS veteran.

26,27th of June 2010
Valtice
EC Dominik Kockohratky, CZ, PER n 02 62 / black-white harlequin
2 x BIS.
Always I like shows in Valtice very much because of a wonderful setting. Take a look at the castle below.
Dominik's pictures from that show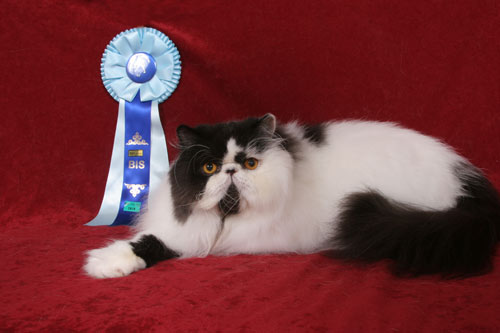 21,22th of March 2010
Show Prague - Pyramida : Nancy obtained both days CAC and also certificat 3th best kitten of the category I. for year 2009 on the show.
Garfield of Blues Keanu, CZ was the tenth best persian and exotic kittens of the year 2009.

11th of March 2010
Since March 3, 2010 we are working on the new version of my site. I believe that you will like them the same as me and my webmaster.
I hope you will ENJOY and stay with us !!!!

14,15th of October 2009
Nany
is JUNIOR WINNER on Saturday!!! 2 NOM.
My big congratulations.
Garfield of Blues Keanu
- 2 x NOM

17,18th of October 2009
Prague, CZ - Nancy 2 x BIS
Garfield of Blues Keanu - NOM

Take a look at Nancy's gallery HERE

3,4th of October 2009
Show Liberec
Nancy Blue Fantasy Hokami,CZ
BIS kitten in the category 3-6 months
Garfield of Blues Keanu,CZ - both days V1
And here you see one from my past kittens, which I met here in Liberec.
Drake, Sunny Day Keanu,CZ - EXO e03 24
That handsome boy was sold as pet.

29,30th of September 2009
We have new girl Nancy Blue Fantasy Hokami, CZ - EXO g 22.
Show Chodová Planá - best kitten 3-6 monts
Many thaks Miluse for this beautiful girl.
Nancy'gallery is placed HERE.
Garfield, Boy of Blues Keanu,CZ - EX1 + NOM BIS


11th of April 2009
Show Hradec Kralove. Hestia obtained last CAGCIB. Now she is GIC.

22.11.2008
Show Pardubice - Hestia Piranoso - BIS a BOB IV.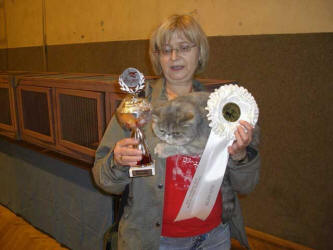 Hestia Piranoso - Best of Best IV.

Her granddaughter Esther, Dangle Dolly – the first CAC.
Owner Mgr. Bc. Patricie Voborníková - Říhová

27th of July 2008
Show Prague - Blues obtained a title European champion. Because he don't like shows, there was his final show. Thank you, Blues, it was always a big pleasure to show such adorable male like you on shows.

Males | Females | Kittens | News | Site map
Copyright © 2010-2011 by Keanu. All Rights Reserved. Webmaster Dagmar Patkova